About Us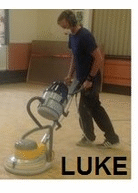 We are a well established family business headed by Bob Hudspith who is rapidly nearing retirement age, and nowadays confines himself to answering the phone enquiries plus office and admin duties. Bob has always believed in maintaining a friendly hands-on approach when dealing with our customers. As a result, the company has many satisfied home owners, local organisations and businesses mostly in and around Leicestershire who have been delighted by our customer service and professionalism since we started back in 1996. We now have two teams of highly qualified staff led by Bob's son Rob and Luke (see alongside) who we know to be trustworthy, and who work exclusively for us. Most staff have been associated with our company since we started and they have now achieved a level of skill and commitment that is hard to match.

We always ensure that all staff are fully qualified and keep them up-to-date with new techniques and products to get the best results. Our guys also attend annual Training Seminars which are carried-out under CPD guidelines covering the Royal Institute of Chartered Surveyors regulations for quality assurance. Apart from domestic jobs, the floorfixer staff work in all sorts of environments including communal areas of schools, hotels, community centres etc. Rob specialises in domestic wood floors which also need repairing and he loves renovating old parquet. Rob is also well known throughout Leicestershire for the cleaning and maintainance of local village hall floors, whilst Luke has vast experience with comercial work such as school halls, pubs and restaurants all over the UK which some times need to be done out of business hours or term time.

Floorfixer is a genuinely independent company who are members of a group which includes two other well established floor-cleaning and restoration companies based in Leicester under the name of - Mister Group. Other members of the group are Leicester Carpet Cleaners for carpet and upholstery, and CleanPave who specialise in hard surfaces such as patio paviours and driveways. Each team specialises in their individual type of surface only, but we are really good at working together and that is how we can offer a better price for you. Over the years, we have invested considerable resources in acquiring the expertise and using professional quality wood floor sanding equipment to ensure our customers receive a top quality service.

Infection Control
During the coronavirus outbreak of 2020, the Mister Group decided to do their part to help local businesses take maximum precaution to sanitise and prevent the virus from spreading.The Mister Group of companies combined their skills to offer a disinfection service using high grade anti-viral disinfectant applied to rooms with a ULV Fogging Machine which aerolises the solution into a very fine mist or fog. The new service is called Eco-Mist. and they have already established a good relationship with the customers of existing businesses served over many years.

Human infection is usually caused by contact with contaminated surfaces. Touching your eyes, mouth or nose after contact with contaminants can lead to infection. The eco-mist COVID 19 disinfection service primarily targets regularly touched surface areas to eliminate harmful viruses. However, the biggest benefit of the fogging system is that the fine mist also settles on difficult-to-reach places to cover every nook and cranny and leaves no wetness or residue.

The eco-mist Certificate of Disinfection will let both staff and customers know that they are in the safest environment possible and show that the business operator is taking relevant precautions.

Satisfying
Sanding a wood floor and then seeing it all come together during the finishing process is the most enjoyable part of our work. What we really find to be the most satisfying thing about working in the wood floor restoration trade is having the opportunity to transform an old or tired looking floor and bringing some life back into it for people to enjoy for many years to come. The two key techniques required for a genuinely awesome restoration are precision, and a delicate touch. The Floorfixer team have learned many strategies to improve their art and these skills have been honed over many years by mastering a carefully guarded trick or two on the way. Our favourite slogan is - We've got the skills that pay the bills - (whats the betting that someone does not plagiorize that one!)

The FloorFixer floor sanding and renovation service was added to our portfolio due to the popularity of wood flooring in modern homes, and is now an established leader in the field of floor wood sanding, repair and renovation. This means that you can commission us with complete peace of mind in the knowledge that your home won't be clouded with dust, all your furniture etc. will be treated with care and you will have a wooden floor to be proud of.


Wood flooring projects are always associated with stress because of the expected dust, mess and time invested by the homeowner. The combined experience of the FloorFixer team has overcome this by developing a process designed to protect you from this inconvenience. They are also constantly striving for new innovative improvements to provide you with an efficient wood floor renovation project. All our technicians have been carefully trained at the product manufacturers training school to give our customers the highest level of service. They also use professional equipment and protective wood floor finishes with the latest technology to achieve unprecedented results every time.
Services:
Floor Sanding
Beware of Liars!
Wood Floor Restoration
Procedure
Floor Types
Products
Wood Floor Maintenance
Floor Stripping
Wood Floor Polishing
Wood Floor Staining
Parquet Floor Refurbishment
Covering:
Loughborough
Shepshed
Coalville
Hinckley
Market Bosworth
Lutterworth
Ashby de la Zouch
Market Harborough
Oakham
Oadby
Melton Mowbray