Maintenance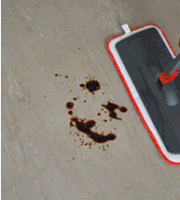 You get a Floor-care Gift Pack when we have completed the wood floor restoration in your home if you have spent a minimum of £640. This is the best time to start protecting your investment with the ultimate care of your newly renovated wood floor. Maintenance is the key to enjoying the lasting beauty of your wooden floor and, as a symbol of our devotion to the service we provide, we would like to give you a special gift pack worth over £40 to say THANK YOU for placing your trust in us.

Offer Limitations: This offer is available to all non-commercial customers who meet certain conditions listed below - minimum spend applies.

The pack contains a valuable information sheet, professional heavy-duty felt pads for your furniture plus a spray-mop complete with washable micro-fibre cleaning pad and refillable fluid cartridge filled with Bona Wood Floor Cleaning Fluid. All these items are essential for the perfect care of your wood flooring.

If you would prefer to have a Bona Spray Mop exactly like the one shown in the video below, Floorfixer wood floor restoration staff will be pleased to supply you a complete kit for around £40. However, the environmentally friendly spray mop supplied in our Aftercare Gift Pack is very similar to the one shown in the Bona video. It can clean approximately 1000 square feet before the pad requires machine or hand washing, and it is still effective after 100 more washes! The Microfibre pad traps and lifts away up to 7 times its weight in dirt and grime. Its electrostatic action attracts dirt, micro-particles and common household allergens.

Our Spray Mop is designed for use on all types of wooden floors whether pre-finished, or with lacquers or oils applied on site. It is easy to use with its extra wide 360 degree swivel mop head for attaching the re-usable and machine washable Microfibre cleaning pad which enables you to get into awkward corners and around furniture.

The cleaning fluid cartridge container can be easily removed for a refill as required and then returned by simply clicking back into place onto the handle. Just squeeze the trigger to produce a fine cleaning fluid mist then run the mop over to clean all your dust and allergens. For deeper, more ingrained dirt - just spray and leave the solution to penetrate a bit longer before wiping off and this will then dissolve the dirt. Top-up cans of Bona pH neutral, streak free, non-dulling floor cleaning solution are widely available in various sizes.

Bona Cleaning Fluid whisks away stubborn dirt and leaves no residue, as multi-purpose cleaners do. It has been specially formulated to bring out the best in wood floors, and has been awarded best wood floor cleaner in independent tests. The main reason Floorfixer recommends this product is because it doesn't leave any dulling residue, as it contains a quick drying agent which also reduces the possibility of future problems when recoating.

Created by Swedish company Bona, who have been specialising in wood floor care for almost 100 years. They are the world leaders in the field of wood floor protection who's products are used on some of the most prestigious floors you could think of - Westminster Cathedral, The British Museum, The National Gallery and Edinburgh Castle to name but a few, and that's a lot of dirty footprints!

Steam Cleaners are not good for wooden floors because they work by forcing steam into the joints of each plank at high pressure. Constantly adding moisture to a wooden floor could make it swell unnecessarily leading to warping even after it has been waxed, oiled or lacquered because steam can break down the finish and leave the floor looking dull and lifeless. The alternative is to use a spray cleaner combined with a Microfibre Mop which can clean the floor with just a small amount of cleaning fluid without having to use water.

Offer Conditions: The Free Floorcare Gift offer is available to all non-commercial customers spending a minimum of £640 for a single project. Separate transactions to qualify for the offer cannot be combined under any circumstances. The offer is valid on condition that a full deposit for the project has been received beforehand, and the balance payment has been made on the day of job completion. Floorfixer reserves the right to withdraw the Floorcare Gift Promotion at any time. The Gift Package Promotion is only available to Domestic Customers; Businesses and Organisations are excluded. Gift Packs are non-transferable and there is no cash alternative. The free gift cannot be exchanged for discount on any services supplied by Floorfixer. No responsibility is accepted by Floorfixer for any damage caused by any Gift Pack item. Only one promotional gift to be provided per customer. This promotion is subject to availability and while stocks last. Floorfixer reserves the right to replace any free gift (in whole or in part), with any other free gift of similar value. The free gift is not guaranteed by Floorfixer and is supplied purely as a gift to say Thank-You.